VMware Carbon Black CB Response

Industry-Leading Incident Response and Threat Hunting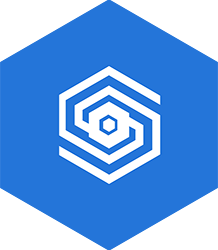 1 Year Standard Support Subscription License for CB Response On Premise per Windows Desktop/Laptop/Servers, Volume Tier 100 - 999
Includes CB Collective Defense Cloud, and standard maintenance & support (including updates, upgrades, and technical support)
Price per tier. Quantity must be 100 or greater
#CB-WIN-STD-1Y-T1
Our Price: $30.80
Highly-scalable, real-time threat hunting and incident response (IR) solution delivering unfiltered visibility for top security operations centers and IR teams
VMware Carbon Black Products
CB Response - Standard Support Subscription - Windows - 1 Year
1 Year Standard Support Subscription License for CB Response On Premise per Windows Desktop/Laptop/Servers, Volume Tier 100 - 999
Includes CB Collective Defense Cloud, and standard maintenance & support (including updates, upgrades, and technical support) Price per tier. Quantity must be 100 or greater
#CB-WIN-STD-1Y-T1
Our Price: $30.80
1 Year Standard Support Subscription License for CB Response On Premise per Windows Desktop/Laptop/Servers, Volume Tier 1,000 - 2,499
Includes CB Collective Defense Cloud, and standard maintenance & support (including updates, upgrades, and technical support) Price per tier. Quantity must be 1,000 or greater
#CB-WIN-STD-1Y-T2
Our Price: $27.41
1 Year Standard Support Subscription License for CB Response On Premise per Windows Desktop/Laptop/Servers, Volume Tier 2,500 - 4,999
Includes CB Collective Defense Cloud, and standard maintenance & support (including updates, upgrades, and technical support) Price per tier. Quantity must be 2,500 or greater
#CB-WIN-STD-1Y-T3
Our Price: $24.33
Click here to jump to more pricing!
Overview:
Enterprise security teams struggle to get their hands on the endpoint data they need to properly investigate and proactively hunt for abnormal behavior. Security and IT professionals lack the ability to see beyond suspicious activity and need a way to dive deeper into the data to make their own judgments.
CB Response is an industry-leading incident response and threat hunting solution designed for security operations center (SOC) teams. CB Response continuously records and stores unfiltered endpoint data, so that security professionals can hunt threats in real time and visualize the complete attack kill chain. It leverages the CB Predictive Security Cloud's aggregated threat intelligence, which is applied to the endpoint activity system of record for evidence and detection of these identified threats and patterns of behavior.
Top SOC teams, IR firms and MSSPs have adopted CB Response as a core component of their detection and response capability stack. Customers that augment or replace legacy antivirus solutions with CB Response do so because those legacy solutions lack visibility and context, leaving customers blind to attacks. CB Response is available via MSSP or directly via onpremises deployment, virtual private cloud or software as a service.
CB Response provides advanced tools enabling SOC teams to understand the current state of an endpoint, perform remote live investigations, intervene with ongoing attacks and promptly remediate endpoint threats. As new patterns and indicators emerge, they are assessed against historical endpoint data to identify previously unknown attacks.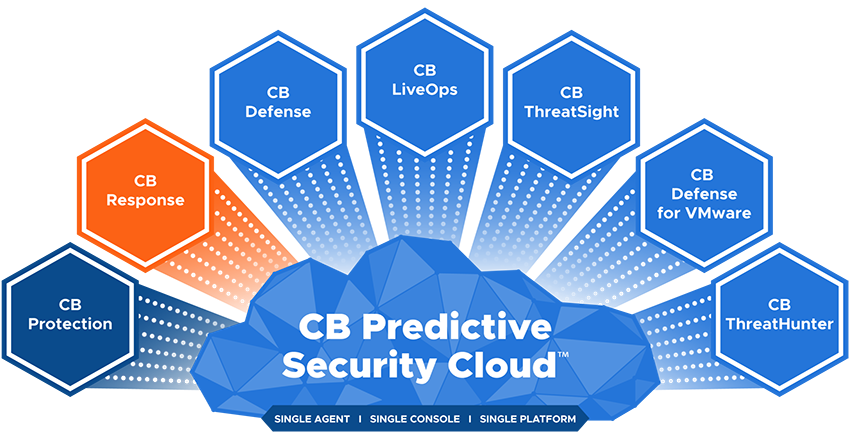 The CB Predictive Security Cloud supports a variety of powerful next-generation endpoint security services, all of which are powered by the collective intelligence generated in the PSC. This collective intelligence is generated from data collected across millions of endpoints under management and enriched with threat intelligence from around the world in real-time.
Threat Hunting and IR, now on the CB Predictive Security Cloud
CB ThreatHunter is the latest addition to the CB Predictive Security Cloud. It delivers advanced threat hunting and IR capabilities to the same single agent that powers our breakthrough prevention and industry-leading detection and response.

Unfiltered Visibility
Investigations that typically take days or weeks can be completed in just minutes. CB Response captures comprehensive information about endpoint events, giving security professionals a clear understanding of what happened.
Access the complete activity record of every endpoint, even if it's offline
See what happened at every stage of an attack with intuitive attack chain visualizations
Uncover advanced threats and minimize attacker dwell time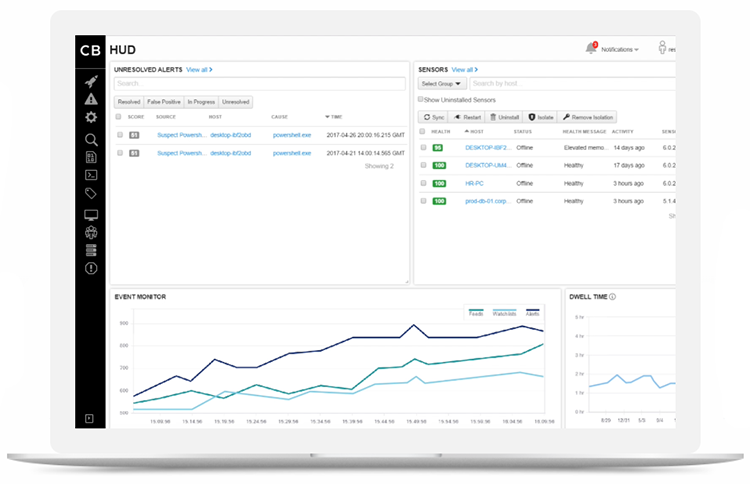 ---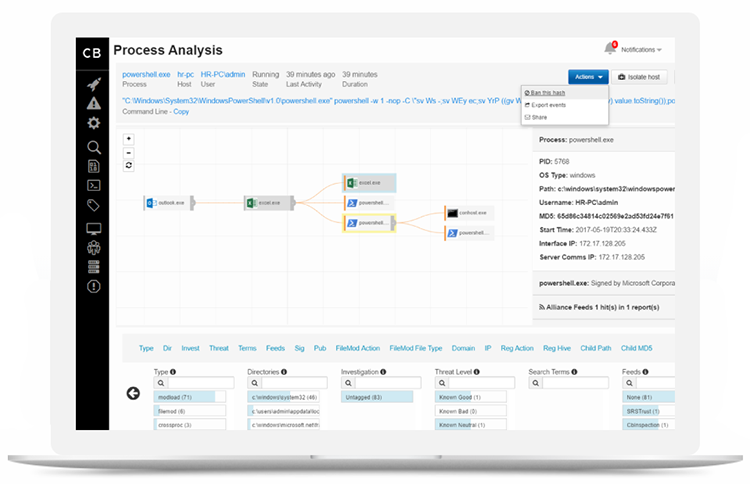 Proactive Threat Hunting
CB Response's sophisticated detection combines custom and cloud-native threat intel, automated watchlists, and integrations with the rest of your security stack to efficiently scale your hunt across the enterprise.
Fast search, zoom, and visualization of process trees and timelines to pinpoint threats
Consolidate threat intelligence for your environment to automatically detect suspicious behavior
Correlate network, endpoint, and SIEM data through open APIs and out-of-the-box integrations
---

Respond Immediately
An attacker can compromise your environment in an hour or less. CB Response gives you the power to respond and remediate rapidly, stopping active attacks and repairing damage quickly.
Isolate infected systems and remove malicious files to prevent lateral movement
Secure shell access to any endpoint with Live Response
Automatically collect and store detailed forensic data for post-incident investigation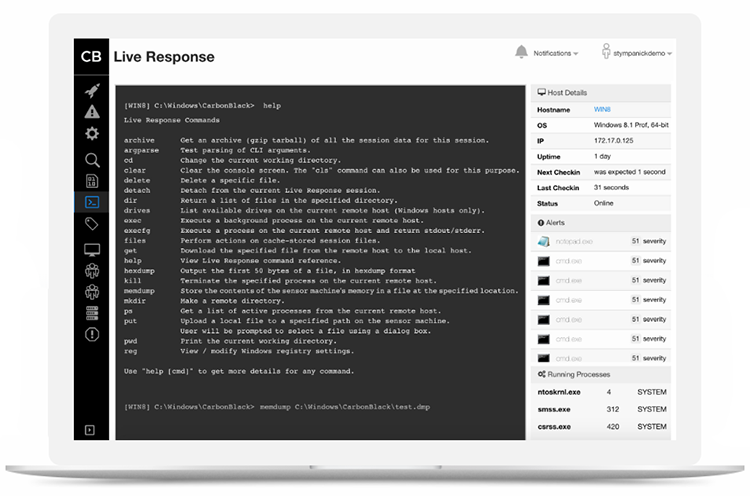 Features and Benefits:
Benefits
Faster end-to-end response and remediation
Accelerated IR and threat hunting with unfiltered endpoint visibility
Rapid identification of attacker activities and root cause
Secure remote access to infected endpoints for in-depth investigation
Better protection from future attacks through automated hunting
Unlimited retention and scale for the largest installations
Reduced IT headaches from reimaging and helpdesk tickets
Features
Out-of-the-box and customizable behavioral detection
Multiple, customizable threat intel feeds
Automated watchlists capture queries
Process and binary search of centralized data
Interactive attack chain visualization
Live Response for rapid remediation
Open APIs and 120+out-of-the-box integrations
On-prem, virtual private cloud, SaaS, or MSSP
Capabilities:

Continuous and Centralized Recording
Centralized access to unfiltered endpoint data means that security professionals have the information they need to hunt threats in real time as well as conduct in-depth investigations after a breach has occurred.

Live Response for Remote Remediation
With Live Response, incident responders can create a secure connection to infected hosts to pull or push files, kill processes, perform memory dumps and quickly remediate from anywhere in the world.

Attack Chain Visualization and Search
CB Response provides intuitive attack chain visualization to make identifying root cause fast and easy. Analysts can quickly jump through each stage of an attack to gain insight into the attacker's behavior, close security gaps and learn from every new attack technique to avoid falling victim to the same attack twice.

Automation via Integrations and Open APIs
Carbon Black boasts a robust partner ecosystem and open platform that allows security teams to integrate products like CB Response into their existing security stack.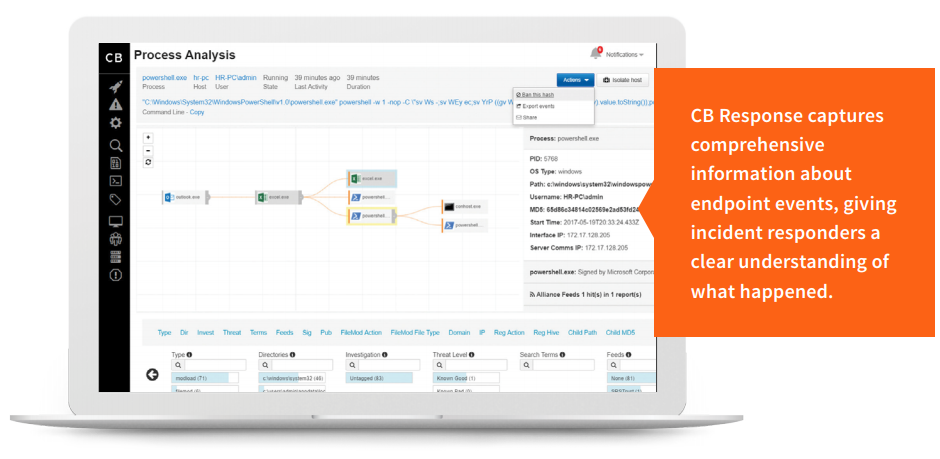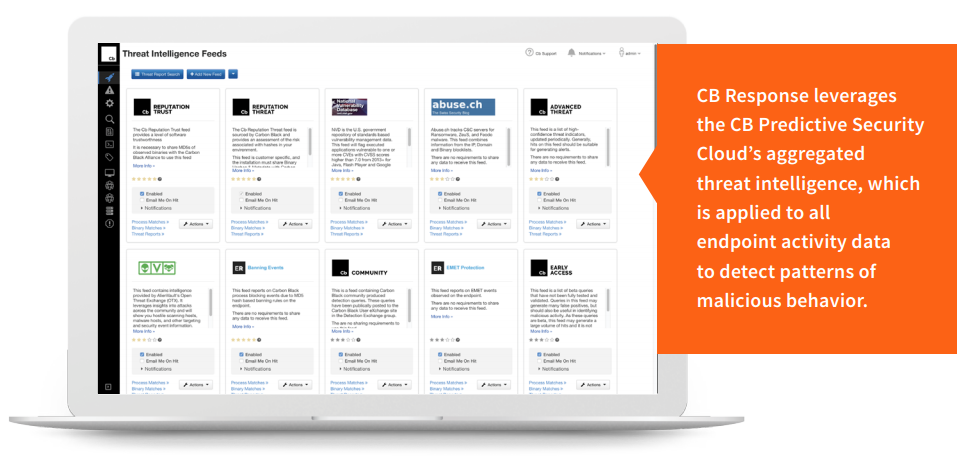 Use Cases:
Threat hunting
Incident response
Breach preparation
Alert validation and triage
Root cause analysis
Forensic investigations
Host isolation
Platforms:

Sensor Support:
Windows
MacOS
Red Hat Linux
CentOS (Linux)
Oracle RHCK
Deployment Options:
Pricing Notes:
Pricing and product availability subject to change without notice.
VMware Carbon Black Products
CB Response - Standard Support Subscription - Windows - 1 Year
1 Year Standard Support Subscription License for CB Response On Premise per Windows Desktop/Laptop/Servers, Volume Tier 100 - 999
Includes CB Collective Defense Cloud, and standard maintenance & support (including updates, upgrades, and technical support) Price per tier. Quantity must be 100 or greater
#CB-WIN-STD-1Y-T1
Our Price: $30.80
1 Year Standard Support Subscription License for CB Response On Premise per Windows Desktop/Laptop/Servers, Volume Tier 1,000 - 2,499
Includes CB Collective Defense Cloud, and standard maintenance & support (including updates, upgrades, and technical support) Price per tier. Quantity must be 1,000 or greater
#CB-WIN-STD-1Y-T2
Our Price: $27.41
1 Year Standard Support Subscription License for CB Response On Premise per Windows Desktop/Laptop/Servers, Volume Tier 2,500 - 4,999
Includes CB Collective Defense Cloud, and standard maintenance & support (including updates, upgrades, and technical support) Price per tier. Quantity must be 2,500 or greater
#CB-WIN-STD-1Y-T3
Our Price: $24.33
1 Year Standard Support Subscription License for CB Response On Premise per Windows Desktop/Laptop/Servers, Volume Tier 5,000 - 9,999
Includes CB Collective Defense Cloud, and standard maintenance & support (including updates, upgrades, and technical support) Price per tier. Quantity must be 5,000 or greater
#CB-WIN-STD-1Y-T4
Our Price: $20.94
1 Year Standard Support Subscription License for CB Response On Premise per Windows Desktop/Laptop/Servers, Volume Tier 10,000 - 24,999
Includes CB Collective Defense Cloud, and standard maintenance & support (including updates, upgrades, and technical support) Price per tier. Quantity must be 10,000 or greater
#CB-WIN-STD-1Y-T5
Our Price: $17.56
CB Response - Standard Support Subscription - Windows - 3 Year
3 Years Standard Support Subscription License for CB Response On Premise per Windows Desktop/Laptop/Servers, Volume Tier 100 - 999
Includes CB Collective Defense Cloud, and standard maintenance & support (including updates, upgrades, and technical support) Price per tier. Quantity must be 100 or greater
#CB-WIN-STD-3Y-T1
Our Price: $83.16
3 Years Standard Support Subscription License for CB Response On Premise per Windows Desktop/Laptop/Servers, Volume Tier 1,000 - 2,499
Includes CB Collective Defense Cloud, and standard maintenance & support (including updates, upgrades, and technical support) Price per tier. Quantity must be 1,000 or greater
#CB-WIN-STD-3Y-T2
Our Price: $74.01
3 Years Standard Support Subscription License for CB Response On Premise per Windows Desktop/Laptop/Servers, Volume Tier 2,500 - 4,999
Includes CB Collective Defense Cloud, and standard maintenance & support (including updates, upgrades, and technical support) Price per tier. Quantity must be 2,500 or greater
#CB-WIN-STD-3Y-T3
Our Price: $65.70
3 Years Standard Support Subscription License for CB Response On Premise per Windows Desktop/Laptop/Servers, Volume Tier 5,000 - 9,999
Includes CB Collective Defense Cloud, and standard maintenance & support (including updates, upgrades, and technical support) Price per tier. Quantity must be 5,000 or greater
#CB-WIN-STD-3Y-T4
Our Price: $56.55
3 Years Standard Support Subscription License for CB Response On Premise per Windows Desktop/Laptop/Servers, Volume Tier 10,000 - 24,999
Includes CB Collective Defense Cloud, and standard maintenance & support (including updates, upgrades, and technical support) Price per tier. Quantity must be 10,000 or greater
#CB-WIN-STD-3Y-T5
Our Price: $47.40
CB Response - Standard Support Subscription - Windows - 1 Year - Renewal
1 Year Renewal Standard Support Subscription License for CB Response On Premise per Windows Desktop/Laptop/Servers, Volume Tier 100 - 999
Includes CB Collective Defense Cloud, and standard maintenance & support (including updates, upgrades, and technical support) Price per tier. Quantity must be 100 or greater
#CB-WIN-STD-1Y-R-T1
Our Price: $30.80
1 Year Renewal Standard Support Subscription License for CB Response On Premise per Windows Desktop/Laptop/Servers, Volume Tier 1,000 - 2,499
Includes CB Collective Defense Cloud, and standard maintenance & support (including updates, upgrades, and technical support) Price per tier. Quantity must be 1,000 or greater
#CB-WIN-STD-1Y-R-T2
Our Price: $27.41
1 Year Renewal Standard Support Subscription License for CB Response On Premise per Windows Desktop/Laptop/Servers, Volume Tier 2,500 - 4,999
Includes CB Collective Defense Cloud, and standard maintenance & support (including updates, upgrades, and technical support) Price per tier. Quantity must be 2,500 or greater
#CB-WIN-STD-1Y-R-T3
Our Price: $24.33
1 Year Renewal Standard Support Subscription License for CB Response On Premise per Windows Desktop/Laptop/Servers, Volume Tier 5,000 - 9,999
Includes CB Collective Defense Cloud, and standard maintenance & support (including updates, upgrades, and technical support) Price per tier. Quantity must be 5,000 or greater
#CB-WIN-STD-1Y-R-T4
Our Price: $20.94
1 Year Renewal Standard Support Subscription License for CB Response On Premise per Windows Desktop/Laptop/Servers, Volume Tier 10,000 - 24,999
Includes CB Collective Defense Cloud, and standard maintenance & support (including updates, upgrades, and technical support) Price per tier. Quantity must be 10,000 or greater
#CB-WIN-STD-1Y-R-T5
Our Price: $17.56
CB Response - Standard Support Subscription - Mac - 1 Year
1 Year Standard Support Subscription License for CB Response On Premise per Mac Desktop/Laptop/Servers, Volume Tier 100 - 999
Includes CB Collective Defense Cloud, and standard maintenance & support (including updates, upgrades, and technical support) Price per tier. Quantity must be 100 or greater
#CB-MAC-STD-1Y-T1
Our Price: $30.80
1 Year Standard Support Subscription License for CB Response On Premise per Mac Desktop/Laptop/Servers, Volume Tier 1,000 - 2,499
Includes CB Collective Defense Cloud, and standard maintenance & support (including updates, upgrades, and technical support) Price per tier. Quantity must be 1,000 or greater
#CB-MAC-STD-1Y-T2
Our Price: $27.41
1 Year Standard Support Subscription License for CB Response On Premise per Mac Desktop/Laptop/Servers, Volume Tier 2,500 - 4,999
Includes CB Collective Defense Cloud, and standard maintenance & support (including updates, upgrades, and technical support) Price per tier. Quantity must be 2,500 or greater
#CB-MAC-STD-1Y-T3
Our Price: $24.33
1 Year Standard Support Subscription License for CB Response On Premise per Mac Desktop/Laptop/Servers, Volume Tier 5,000 - 9,999
Includes CB Collective Defense Cloud, and standard maintenance & support (including updates, upgrades, and technical support) Price per tier. Quantity must be 5,000 or greater
#CB-MAC-STD-1Y-T4
Our Price: $20.94
1 Year Standard Support Subscription License for CB Response On Premise per Mac Desktop/Laptop/Servers, Volume Tier 10,000 - 24,999
Includes CB Collective Defense Cloud, and standard maintenance & support (including updates, upgrades, and technical support) Price per tier. Quantity must be 10,000 or greater
#CB-MAC-STD-1Y-T5
Our Price: $17.56
CB Response - Standard Support Subscription - Mac - 3 Year
3 Years Standard Support Subscription License for CB Response On Premise per Mac Desktop/Laptop/Servers, Volume Tier 100 - 999
Includes CB Collective Defense Cloud, and standard maintenance & support (including updates, upgrades, and technical support) Price per tier. Quantity must be 100 or greater
#CB-MAC-STD-3Y-T1
Our Price: $83.16
3 Years Standard Support Subscription License for CB Response On Premise per Mac Desktop/Laptop/Servers, Volume Tier 1,000 - 2,499
Includes CB Collective Defense Cloud, and standard maintenance & support (including updates, upgrades, and technical support) Price per tier. Quantity must be 1,000 or greater
#CB-MAC-STD-3Y-T2
Our Price: $74.01
3 Years Standard Support Subscription License for CB Response On Premise per Mac Desktop/Laptop/Servers, Volume Tier 2,500 - 4,999
Includes CB Collective Defense Cloud, and standard maintenance & support (including updates, upgrades, and technical support) Price per tier. Quantity must be 2,500 or greater
#CB-MAC-STD-3Y-T3
Our Price: $65.70
3 Years Standard Support Subscription License for CB Response On Premise per Mac Desktop/Laptop/Servers, Volume Tier 5,000 - 9,999
Includes CB Collective Defense Cloud, and standard maintenance & support (including updates, upgrades, and technical support) Price per tier. Quantity must be 5,000 or greater
#CB-MAC-STD-3Y-T4
Our Price: $56.55
3 Years Standard Support Subscription License for CB Response On Premise per Mac Desktop/Laptop/Servers, Volume Tier 10,000 - 24,999
Includes CB Collective Defense Cloud, and standard maintenance & support (including updates, upgrades, and technical support) Price per tier. Quantity must be 10,000 or greater
#CB-MAC-STD-3Y-T5
Our Price: $47.40
CB Response - Standard Support Subscription - Mac - 1 Year - Renewal
1 Year Renewal Standard Support Subscription License for CB Response On Premise per Mac Desktop/Laptop/Servers, Volume Tier 100 - 999
Includes CB Collective Defense Cloud, and standard maintenance & support (including updates, upgrades, and technical support) Price per tier. Quantity must be 100 or greater
#CB-MAC-STD-1Y-R-T1
Our Price: $30.80
1 Year Renewal Standard Support Subscription License for CB Response On Premise per Mac Desktop/Laptop/Servers, Volume Tier 1,000 - 2,499
Includes CB Collective Defense Cloud, and standard maintenance & support (including updates, upgrades, and technical support) Price per tier. Quantity must be 1,000 or greater
#CB-MAC-STD-1Y-R-T2
Our Price: $27.41
1 Year Renewal Standard Support Subscription License for CB Response On Premise per Mac Desktop/Laptop/Servers, Volume Tier 2,500 - 4,999
Includes CB Collective Defense Cloud, and standard maintenance & support (including updates, upgrades, and technical support) Price per tier. Quantity must be 2,500 or greater
#CB-MAC-STD-1Y-R-T3
Our Price: $24.33
1 Year Renewal Standard Support Subscription License for CB Response On Premise per Mac Desktop/Laptop/Servers, Volume Tier 5,000 - 9,999
Includes CB Collective Defense Cloud, and standard maintenance & support (including updates, upgrades, and technical support) Price per tier. Quantity must be 5,000 or greater
#CB-MAC-STD-1Y-R-T4
Our Price: $20.94
1 Year Renewal Standard Support Subscription License for CB Response On Premise per Mac Desktop/Laptop/Servers, Volume Tier 10,000 - 24,999
Includes CB Collective Defense Cloud, and standard maintenance & support (including updates, upgrades, and technical support) Price per tier. Quantity must be 10,000 or greater
#CB-MAC-STD-1Y-R-T5
Our Price: $17.56
CB Response - Standard Support Subscription - Linux - 1 Year
1 Year Standard Support Subscription License for CB Response On Premise per Linux Desktop/Laptop/Servers, Volume Tier 100 - 999
Includes CB Collective Defense Cloud, and standard maintenance & support (including updates, upgrades, and technical support) Price per tier. Quantity must be 100 or greater
#CB-LNX-STD-1Y-T1
Our Price: $30.80
1 Year Standard Support Subscription License for CB Response On Premise per Linux Desktop/Laptop/Servers, Volume Tier 1,000 - 2,499
Includes CB Collective Defense Cloud, and standard maintenance & support (including updates, upgrades, and technical support) Price per tier. Quantity must be 1,000 or greater
#CB-LNX-STD-1Y-T2
Our Price: $27.41
1 Year Standard Support Subscription License for CB Response On Premise per Linux Desktop/Laptop/Servers, Volume Tier 2,500 - 4,999
Includes CB Collective Defense Cloud, and standard maintenance & support (including updates, upgrades, and technical support) Price per tier. Quantity must be 2,500 or greater
#CB-LNX-STD-1Y-T3
Our Price: $24.33
1 Year Standard Support Subscription License for CB Response On Premise per Linux Desktop/Laptop/Servers, Volume Tier 5,000 - 9,999
Includes CB Collective Defense Cloud, and standard maintenance & support (including updates, upgrades, and technical support) Price per tier. Quantity must be 5,000 or greater
#CB-LNX-STD-1Y-T4
Our Price: $20.94
1 Year Standard Support Subscription License for CB Response On Premise per Linux Desktop/Laptop/Servers, Volume Tier 10,000 - 24,999
Includes CB Collective Defense Cloud, and standard maintenance & support (including updates, upgrades, and technical support) Price per tier. Quantity must be 10,000 or greater
#CB-LNX-STD-1Y-T5
Our Price: $17.56
CB Response - Standard Support Subscription - Linux - 3 Year
3 Years Standard Support Subscription License for CB Response On Premise per Linux Desktop/Laptop/Servers, Volume Tier 100 - 999
Includes CB Collective Defense Cloud, and standard maintenance & support (including updates, upgrades, and technical support) Price per tier. Quantity must be 100 or greater
#CB-LNX-STD-3Y-T1
Our Price: $83.16
3 Years Standard Support Subscription License for CB Response On Premise per Linux Desktop/Laptop/Servers, Volume Tier 1,000 - 2,499
Includes CB Collective Defense Cloud, and standard maintenance & support (including updates, upgrades, and technical support) Price per tier. Quantity must be 1,000 or greater
#CB-LNX-STD-3Y-T2
Our Price: $74.01
3 Years Standard Support Subscription License for CB Response On Premise per Linux Desktop/Laptop/Servers, Volume Tier 2,500 - 4,999
Includes CB Collective Defense Cloud, and standard maintenance & support (including updates, upgrades, and technical support) Price per tier. Quantity must be 2,500 or greater
#CB-LNX-STD-3Y-T3
Our Price: $65.70
3 Years Standard Support Subscription License for CB Response On Premise per Linux Desktop/Laptop/Servers, Volume Tier 5,000 - 9,999
Includes CB Collective Defense Cloud, and standard maintenance & support (including updates, upgrades, and technical support) Price per tier. Quantity must be 5,000 or greater
#CB-LNX-STD-3Y-T4
Our Price: $56.55
3 Years Standard Support Subscription License for CB Response On Premise per Linux Desktop/Laptop/Servers, Volume Tier 10,000 - 24,999
Includes CB Collective Defense Cloud, and standard maintenance & support (including updates, upgrades, and technical support) Price per tier. Quantity must be 10,000 or greater
#CB-LNX-STD-3Y-T5
Our Price: $47.40
CB Response - Standard Support Subscription - Linux - 1 Year - Renewal
1 Year Renewal Standard Support Subscription License for CB Response On Premise per Linux Desktop/Laptop/Servers, Volume Tier 100 - 999
Includes CB Collective Defense Cloud, and standard maintenance & support (including updates, upgrades, and technical support) Price per tier. Quantity must be 100 or greater
#CB-LNX-STD-1Y-R-T1
Our Price: $30.80
1 Year Renewal Standard Support Subscription License for CB Response On Premise per Linux Desktop/Laptop/Servers, Volume Tier 1,000 - 2,499
Includes CB Collective Defense Cloud, and standard maintenance & support (including updates, upgrades, and technical support) Price per tier. Quantity must be 1,000 or greater
#CB-LNX-STD-1Y-R-T2
Our Price: $27.41
1 Year Renewal Standard Support Subscription License for CB Response On Premise per Linux Desktop/Laptop/Servers, Volume Tier 2,500 - 4,999
Includes CB Collective Defense Cloud, and standard maintenance & support (including updates, upgrades, and technical support) Price per tier. Quantity must be 2,500 or greater
#CB-LNX-STD-1Y-R-T3
Our Price: $24.33
1 Year Renewal Standard Support Subscription License for CB Response On Premise per Linux Desktop/Laptop/Servers, Volume Tier 5,000 - 9,999
Includes CB Collective Defense Cloud, and standard maintenance & support (including updates, upgrades, and technical support) Price per tier. Quantity must be 5,000 or greater
#CB-LNX-STD-1Y-R-T4
Our Price: $20.94
1 Year Renewal Standard Support Subscription License for CB Response On Premise per Linux Desktop/Laptop/Servers, Volume Tier 10,000 - 24,999
Includes CB Collective Defense Cloud, and standard maintenance & support (including updates, upgrades, and technical support) Price per tier. Quantity must be 10,000 or greater
#CB-LNX-STD-1Y-R-T5
Our Price: $17.56
CB Response - Premium Support Subscription - Windows - 1 Year
1 Year Premium Support Subscription License for CB Response On Premise per Windows Desktop/Laptop/Servers, Volume Tier 100 - 999
Includes CB Collective Defense Cloud, and Premium maintenance & support (including updates, upgrades, and technical support) Price per tier. Quantity must be 100 or greater
#CB-WIN-PRM-1Y-T1
Our Price: $32.34
1 Year Premium Support Subscription License for CB Response On Premise per Windows Desktop/Laptop/Servers, Volume Tier 1,000 - 2,499
Includes CB Collective Defense Cloud, and Premium maintenance & support (including updates, upgrades, and technical support) Price per tier. Quantity must be 1,000 or greater
#CB-WIN-PRM-1Y-T2
Our Price: $28.78
1 Year Premium Support Subscription License for CB Response On Premise per Windows Desktop/Laptop/Servers, Volume Tier 2,500 - 4,999
Includes CB Collective Defense Cloud, and Premium maintenance & support (including updates, upgrades, and technical support) Price per tier. Quantity must be 2,500 or greater
#CB-WIN-PRM-1Y-T3
Our Price: $25.55
1 Year Premium Support Subscription License for CB Response On Premise per Windows Desktop/Laptop/Servers, Volume Tier 5,000 - 9,999
Includes CB Collective Defense Cloud, and Premium maintenance & support (including updates, upgrades, and technical support) Price per tier. Quantity must be 5,000 or greater
#CB-WIN-PRM-1Y-T4
Our Price: $21.99
1 Year Premium Support Subscription License for CB Response On Premise per Windows Desktop/Laptop/Servers, Volume Tier 10,000 - 24,999
Includes CB Collective Defense Cloud, and Premium maintenance & support (including updates, upgrades, and technical support) Price per tier. Quantity must be 10,000 or greater
#CB-WIN-PRM-1Y-T5
Our Price: $18.43
CB Response - Premium Support Subscription - Windows - 3 Year
3 Years Premium Support Subscription License for CB Response On Premise per Windows Desktop/Laptop/Servers, Volume Tier 100 - 999
Includes CB Collective Defense Cloud, and Premium maintenance & support (including updates, upgrades, and technical support) Price per tier. Quantity must be 100 or greater
#CB-WIN-PRM-3Y-T1
Our Price: $87.32
3 Years Premium Support Subscription License for CB Response On Premise per Windows Desktop/Laptop/Servers, Volume Tier 1,000 - 2,499
Includes CB Collective Defense Cloud, and Premium maintenance & support (including updates, upgrades, and technical support) Price per tier. Quantity must be 1,000 or greater
#CB-WIN-PRM-3Y-T2
Our Price: $77.71
3 Years Premium Support Subscription License for CB Response On Premise per Windows Desktop/Laptop/Servers, Volume Tier 2,500 - 4,999
Includes CB Collective Defense Cloud, and Premium maintenance & support (including updates, upgrades, and technical support) Price per tier. Quantity must be 2,500 or greater
#CB-WIN-PRM-3Y-T3
Our Price: $68.98
3 Years Premium Support Subscription License for CB Response On Premise per Windows Desktop/Laptop/Servers, Volume Tier 5,000 - 9,999
Includes CB Collective Defense Cloud, and Premium maintenance & support (including updates, upgrades, and technical support) Price per tier. Quantity must be 5,000 or greater
#CB-WIN-PRM-3Y-T4
Our Price: $59.38
3 Years Premium Support Subscription License for CB Response On Premise per Windows Desktop/Laptop/Servers, Volume Tier 10,000 - 24,999
Includes CB Collective Defense Cloud, and Premium maintenance & support (including updates, upgrades, and technical support) Price per tier. Quantity must be 10,000 or greater
#CB-WIN-PRM-3Y-T5
Our Price: $49.77
CB Response - Premium Support Subscription - Windows - 1 Year - Renewal
1 Year Renewal Premium Support Subscription License for CB Response On Premise per Windows Desktop/Laptop/Servers, Volume Tier 100 - 999
Includes CB Collective Defense Cloud, and Premium maintenance & support (including updates, upgrades, and technical support) Price per tier. Quantity must be 100 or greater
#CB-WIN-PRM-1Y-R-T1
Our Price: $32.34
1 Year Renewal Premium Support Subscription License for CB Response On Premise per Windows Desktop/Laptop/Servers, Volume Tier 1,000 - 2,499
Includes CB Collective Defense Cloud, and Premium maintenance & support (including updates, upgrades, and technical support) Price per tier. Quantity must be 1,000 or greater
#CB-WIN-PRM-1Y-R-T2
Our Price: $28.78
1 Year Renewal Premium Support Subscription License for CB Response On Premise per Windows Desktop/Laptop/Servers, Volume Tier 2,500 - 4,999
Includes CB Collective Defense Cloud, and Premium maintenance & support (including updates, upgrades, and technical support) Price per tier. Quantity must be 2,500 or greater
#CB-WIN-PRM-1Y-R-T3
Our Price: $25.55
1 Year Renewal Premium Support Subscription License for CB Response On Premise per Windows Desktop/Laptop/Servers, Volume Tier 5,000 - 9,999
Includes CB Collective Defense Cloud, and Premium maintenance & support (including updates, upgrades, and technical support) Price per tier. Quantity must be 5,000 or greater
#CB-WIN-PRM-1Y-R-T4
Our Price: $21.99
1 Year Renewal Premium Support Subscription License for CB Response On Premise per Windows Desktop/Laptop/Servers, Volume Tier 10,000 - 24,999
Includes CB Collective Defense Cloud, and Premium maintenance & support (including updates, upgrades, and technical support) Price per tier. Quantity must be 10,000 or greater
#CB-WIN-PRM-1Y-R-T5
Our Price: $18.43
CB Response - Premium Support Subscription - Mac - 1 Year
1 Year Premium Support Subscription License for CB Response On Premise per Mac Desktop/Laptop/Servers, Volume Tier 100 - 999
Includes CB Collective Defense Cloud, and Premium maintenance & support (including updates, upgrades, and technical support) Price per tier. Quantity must be 100 or greater
#CB-MAC-PRM-1Y-T1
Our Price: $32.34
1 Year Premium Support Subscription License for CB Response On Premise per Mac Desktop/Laptop/Servers, Volume Tier 1,000 - 2,499
Includes CB Collective Defense Cloud, and Premium maintenance & support (including updates, upgrades, and technical support) Price per tier. Quantity must be 1,000 or greater
#CB-MAC-PRM-1Y-T2
Our Price: $28.78
1 Year Premium Support Subscription License for CB Response On Premise per Mac Desktop/Laptop/Servers, Volume Tier 2,500 - 4,999
Includes CB Collective Defense Cloud, and Premium maintenance & support (including updates, upgrades, and technical support) Price per tier. Quantity must be 2,500 or greater
#CB-MAC-PRM-1Y-T3
Our Price: $25.55
1 Year Premium Support Subscription License for CB Response On Premise per Mac Desktop/Laptop/Servers, Volume Tier 5,000 - 9,999
Includes CB Collective Defense Cloud, and Premium maintenance & support (including updates, upgrades, and technical support) Price per tier. Quantity must be 5,000 or greater
#CB-MAC-PRM-1Y-T4
Our Price: $21.99
1 Year Premium Support Subscription License for CB Response On Premise per Mac Desktop/Laptop/Servers, Volume Tier 10,000 - 24,999
Includes CB Collective Defense Cloud, and Premium maintenance & support (including updates, upgrades, and technical support) Price per tier. Quantity must be 10,000 or greater
#CB-MAC-PRM-1Y-T5
Our Price: $18.43
CB Response - Premium Support Subscription - Mac - 3 Year
3 Years Premium Support Subscription License for CB Response On Premise per Mac Desktop/Laptop/Servers, Volume Tier 100 - 999
Includes CB Collective Defense Cloud, and Premium maintenance & support (including updates, upgrades, and technical support) Price per tier. Quantity must be 100 or greater
#CB-MAC-PRM-3Y-T1
Our Price: $87.32
3 Years Premium Support Subscription License for CB Response On Premise per Mac Desktop/Laptop/Servers, Volume Tier 1,000 - 2,499
Includes CB Collective Defense Cloud, and Premium maintenance & support (including updates, upgrades, and technical support) Price per tier. Quantity must be 1,000 or greater
#CB-MAC-PRM-3Y-T2
Our Price: $77.71
3 Years Premium Support Subscription License for CB Response On Premise per Mac Desktop/Laptop/Servers, Volume Tier 2,500 - 4,999
Includes CB Collective Defense Cloud, and Premium maintenance & support (including updates, upgrades, and technical support) Price per tier. Quantity must be 2,500 or greater
#CB-MAC-PRM-3Y-T3
Our Price: $68.98
3 Years Premium Support Subscription License for CB Response On Premise per Mac Desktop/Laptop/Servers, Volume Tier 5,000 - 9,999
Includes CB Collective Defense Cloud, and Premium maintenance & support (including updates, upgrades, and technical support) Price per tier. Quantity must be 5,000 or greater
#CB-MAC-PRM-3Y-T4
Our Price: $59.38
3 Years Premium Support Subscription License for CB Response On Premise per Mac Desktop/Laptop/Servers, Volume Tier 10,000 - 24,999
Includes CB Collective Defense Cloud, and Premium maintenance & support (including updates, upgrades, and technical support) Price per tier. Quantity must be 10,000 or greater
#CB-MAC-PRM-3Y-T5
Our Price: $49.77
CB Response - Premium Support Subscription - Mac - 1 Year - Renewal
1 Year Renewal Premium Support Subscription License for CB Response On Premise per Mac Desktop/Laptop/Servers, Volume Tier 100 - 999
Includes CB Collective Defense Cloud, and Premium maintenance & support (including updates, upgrades, and technical support) Price per tier. Quantity must be 100 or greater
#CB-MAC-PRM-1Y-R-T1
Our Price: $32.34
1 Year Renewal Premium Support Subscription License for CB Response On Premise per Mac Desktop/Laptop/Servers, Volume Tier 1,000 - 2,499
Includes CB Collective Defense Cloud, and Premium maintenance & support (including updates, upgrades, and technical support) Price per tier. Quantity must be 1,000 or greater
#CB-MAC-PRM-1Y-R-T2
Our Price: $28.78
1 Year Renewal Premium Support Subscription License for CB Response On Premise per Mac Desktop/Laptop/Servers, Volume Tier 2,500 - 4,999
Includes CB Collective Defense Cloud, and Premium maintenance & support (including updates, upgrades, and technical support) Price per tier. Quantity must be 2,500 or greater
#CB-MAC-PRM-1Y-R-T3
Our Price: $25.55
1 Year Renewal Premium Support Subscription License for CB Response On Premise per Mac Desktop/Laptop/Servers, Volume Tier 5,000 - 9,999
Includes CB Collective Defense Cloud, and Premium maintenance & support (including updates, upgrades, and technical support) Price per tier. Quantity must be 5,000 or greater
#CB-MAC-PRM-1Y-R-T4
Our Price: $21.99
1 Year Renewal Premium Support Subscription License for CB Response On Premise per Mac Desktop/Laptop/Servers, Volume Tier 10,000 - 24,999
Includes CB Collective Defense Cloud, and Premium maintenance & support (including updates, upgrades, and technical support) Price per tier. Quantity must be 10,000 or greater
#CB-MAC-PRM-1Y-R-T5
Our Price: $18.43
CB Response - Premium Support Subscription - Linux - 1 Year
1 Year Premium Support Subscription License for CB Response On Premise per Linux Desktop/Laptop/Servers, Volume Tier 100 - 999
Includes CB Collective Defense Cloud, and Premium maintenance & support (including updates, upgrades, and technical support) Price per tier. Quantity must be 100 or greater
#CB-LNX-PRM-1Y-T1
Our Price: $32.34
1 Year Premium Support Subscription License for CB Response On Premise per Linux Desktop/Laptop/Servers, Volume Tier 1,000 - 2,499
Includes CB Collective Defense Cloud, and Premium maintenance & support (including updates, upgrades, and technical support) Price per tier. Quantity must be 1,000 or greater
#CB-LNX-PRM-1Y-T2
Our Price: $28.78
1 Year Premium Support Subscription License for CB Response On Premise per Linux Desktop/Laptop/Servers, Volume Tier 2,500 - 4,999
Includes CB Collective Defense Cloud, and Premium maintenance & support (including updates, upgrades, and technical support) Price per tier. Quantity must be 2,500 or greater
#CB-LNX-PRM-1Y-T3
Our Price: $25.55
1 Year Premium Support Subscription License for CB Response On Premise per Linux Desktop/Laptop/Servers, Volume Tier 5,000 - 9,999
Includes CB Collective Defense Cloud, and Premium maintenance & support (including updates, upgrades, and technical support) Price per tier. Quantity must be 5,000 or greater
#CB-LNX-PRM-1Y-T4
Our Price: $21.99
1 Year Premium Support Subscription License for CB Response On Premise per Linux Desktop/Laptop/Servers, Volume Tier 10,000 - 24,999
Includes CB Collective Defense Cloud, and Premium maintenance & support (including updates, upgrades, and technical support) Price per tier. Quantity must be 10,000 or greater
#CB-LNX-PRM-1Y-T5
Our Price: $18.43
CB Response - Premium Support Subscription - Linux - 3 Year
3 Years Premium Support Subscription License for CB Response On Premise per Linux Desktop/Laptop/Servers, Volume Tier 100 - 999
Includes CB Collective Defense Cloud, and Premium maintenance & support (including updates, upgrades, and technical support) Price per tier. Quantity must be 100 or greater
#CB-LNX-PRM-3Y-T1
Our Price: $87.32
3 Years Premium Support Subscription License for CB Response On Premise per Linux Desktop/Laptop/Servers, Volume Tier 1,000 - 2,499
Includes CB Collective Defense Cloud, and Premium maintenance & support (including updates, upgrades, and technical support) Price per tier. Quantity must be 1,000 or greater
#CB-LNX-PRM-3Y-T2
Our Price: $77.71
3 Years Premium Support Subscription License for CB Response On Premise per Linux Desktop/Laptop/Servers, Volume Tier 2,500 - 4,999
Includes CB Collective Defense Cloud, and Premium maintenance & support (including updates, upgrades, and technical support) Price per tier. Quantity must be 2,500 or greater
#CB-LNX-PRM-3Y-T3
Our Price: $68.98
3 Years Premium Support Subscription License for CB Response On Premise per Linux Desktop/Laptop/Servers, Volume Tier 5,000 - 9,999
Includes CB Collective Defense Cloud, and Premium maintenance & support (including updates, upgrades, and technical support) Price per tier. Quantity must be 5,000 or greater
#CB-LNX-PRM-3Y-T4
Our Price: $59.38
3 Years Premium Support Subscription License for CB Response On Premise per Linux Desktop/Laptop/Servers, Volume Tier 10,000 - 24,999
Includes CB Collective Defense Cloud, and Premium maintenance & support (including updates, upgrades, and technical support) Price per tier. Quantity must be 10,000 or greater
#CB-LNX-PRM-3Y-T5
Our Price: $49.77
CB Response - Premium Support Subscription - Linux - 1 Year - Renewal
1 Year Renewal Premium Support Subscription License for CB Response On Premise per Linux Desktop/Laptop/Servers, Volume Tier 100 - 999
Includes CB Collective Defense Cloud, and Premium maintenance & support (including updates, upgrades, and technical support) Price per tier. Quantity must be 100 or greater
#CB-LNX-PRM-1Y-R-T1
Our Price: $32.34
1 Year Renewal Premium Support Subscription License for CB Response On Premise per Linux Desktop/Laptop/Servers, Volume Tier 1,000 - 2,499
Includes CB Collective Defense Cloud, and Premium maintenance & support (including updates, upgrades, and technical support) Price per tier. Quantity must be 1,000 or greater
#CB-LNX-PRM-1Y-R-T2
Our Price: $28.78
1 Year Renewal Premium Support Subscription License for CB Response On Premise per Linux Desktop/Laptop/Servers, Volume Tier 2,500 - 4,999
Includes CB Collective Defense Cloud, and Premium maintenance & support (including updates, upgrades, and technical support) Price per tier. Quantity must be 2,500 or greater
#CB-LNX-PRM-1Y-R-T3
Our Price: $25.55
1 Year Renewal Premium Support Subscription License for CB Response On Premise per Linux Desktop/Laptop/Servers, Volume Tier 5,000 - 9,999
Includes CB Collective Defense Cloud, and Premium maintenance & support (including updates, upgrades, and technical support) Price per tier. Quantity must be 5,000 or greater
#CB-LNX-PRM-1Y-R-T4
Our Price: $21.99
1 Year Renewal Premium Support Subscription License for CB Response On Premise per Linux Desktop/Laptop/Servers, Volume Tier 10,000 - 24,999
Includes CB Collective Defense Cloud, and Premium maintenance & support (including updates, upgrades, and technical support) Price per tier. Quantity must be 10,000 or greater
#CB-LNX-PRM-1Y-R-T5
Our Price: $18.43
CB Response - Platinum Support Subscription - Windows - 1 Year
1 Year Platinum Support Subscription License for CB Response On Premise per Windows Desktop/Laptop/Servers, Volume Tier 25,000 - 49,999
Includes CB Collective Defense Cloud, and Platinum maintenance & support (including updates, upgrades, and technical support) Price per tier. Quantity must be 25,000 or greater
#CB-WIN-PLT-1Y-T6
Our Price: $17.00
1 Year Platinum Support Subscription License for CB Response On Premise per Windows Desktop/Laptop/Servers, Volume Tier 50,000+
Includes CB Collective Defense Cloud, and Platinum maintenance & support (including updates, upgrades, and technical support) Price per tier. Quantity must be 50,000 or greater
#CB-WIN-PLT-1Y-T7
Our Price: $16.32
CB Response - Platinum Support Subscription - Windows - 3 Year
3 Years Platinum Support Subscription License for CB Response On Premise per Windows Desktop/Laptop/Servers, Volume Tier 25,000 - 49,999
Includes CB Collective Defense Cloud, and Platinum maintenance & support (including updates, upgrades, and technical support) Price per tier. Quantity must be 25,000 or greater
#CB-WIN-PLT-3Y-T6
Our Price: $45.90
3 Years Platinum Support Subscription License for CB Response On Premise per Windows Desktop/Laptop/Servers, Volume Tier 50,000+
Includes CB Collective Defense Cloud, and Platinum maintenance & support (including updates, upgrades, and technical support) Price per tier. Quantity must be 50,000 or greater
#CB-WIN-PLT-3Y-T7
Our Price: $44.06
CB Response - Platinum Support Subscription - Windows - 1 Year - Renewal
1 Year Renewal Platinum Support Subscription License for CB Response On Premise per Windows Desktop/Laptop/Servers, Volume Tier 25,000 - 49,999
Includes CB Collective Defense Cloud, and Platinum maintenance & support (including updates, upgrades, and technical support) Price per tier. Quantity must be 25,000 or greater
#CB-WIN-PLT-1Y-R-T6
Our Price: $17.00
1 Year Renewal Platinum Support Subscription License for CB Response On Premise per Windows Desktop/Laptop/Servers, Volume Tier 50,000+
Includes CB Collective Defense Cloud, and Platinum maintenance & support (including updates, upgrades, and technical support) Price per tier. Quantity must be 50,000 or greater
#CB-WIN-PLT-1Y-R-T7
Our Price: $16.32
CB Response - Platinum Support Subscription - Mac - 1 Year
1 Year Platinum Support Subscription License for CB Response On Premise per Mac Desktop/Laptop/Servers, Volume Tier 25,000 - 49,999
Includes CB Collective Defense Cloud, and Platinum maintenance & support (including updates, upgrades, and technical support) Price per tier. Quantity must be 25,000 or greater
#CB-MAC-PLT-1Y-T6
Our Price: $17.00
1 Year Platinum Support Subscription License for CB Response On Premise per Mac Desktop/Laptop/Servers, Volume Tier 50,000+
Includes CB Collective Defense Cloud, and Platinum maintenance & support (including updates, upgrades, and technical support) Price per tier. Quantity must be 50,000 or greater
#CB-MAC-PLT-1Y-T7
Our Price: $16.32
CB Response - Platinum Support Subscription - Mac - 3 Year
3 Years Platinum Support Subscription License for CB Response On Premise per Mac Desktop/Laptop/Servers, Volume Tier 25,000 - 49,999
Includes CB Collective Defense Cloud, and Platinum maintenance & support (including updates, upgrades, and technical support) Price per tier. Quantity must be 25,000 or greater
#CB-MAC-PLT-3Y-T6
Our Price: $45.90
3 Years Platinum Support Subscription License for CB Response On Premise per Mac Desktop/Laptop/Servers, Volume Tier 50,000+
Includes CB Collective Defense Cloud, and Platinum maintenance & support (including updates, upgrades, and technical support) Price per tier. Quantity must be 50,000 or greater
#CB-MAC-PLT-3Y-T7
Our Price: $44.06
CB Response - Platinum Support Subscription - Mac - 1 Year - Renewal
1 Year Renewal Platinum Support Subscription License for CB Response On Premise per Mac Desktop/Laptop/Servers, Volume Tier 25,000 - 49,999
Includes CB Collective Defense Cloud, and Platinum maintenance & support (including updates, upgrades, and technical support) Price per tier. Quantity must be 25,000 or greater
#CB-MAC-PLT-1Y-R-T6
Our Price: $17.00
1 Year Renewal Platinum Support Subscription License for CB Response On Premise per Mac Desktop/Laptop/Servers, Volume Tier 50,000+
Includes CB Collective Defense Cloud, and Platinum maintenance & support (including updates, upgrades, and technical support) Price per tier. Quantity must be 50,000 or greater
#CB-MAC-PLT-1Y-R-T7
Our Price: $16.32
CB Response - Platinum Support Subscription - Linux - 1 Year
1 Year Platinum Support Subscription License for CB Response On Premise per Linux Desktop/Laptop/Servers, Volume Tier 25,000 - 49,999
Includes CB Collective Defense Cloud, and Platinum maintenance & support (including updates, upgrades, and technical support) Price per tier. Quantity must be 25,000 or greater
#CB-LNX-PLT-1Y-T6
Our Price: $17.00
1 Year Platinum Support Subscription License for CB Response On Premise per Linux Desktop/Laptop/Servers, Volume Tier 50,000+
Includes CB Collective Defense Cloud, and Platinum maintenance & support (including updates, upgrades, and technical support) Price per tier. Quantity must be 50,000 or greater
#CB-LNX-PLT-1Y-T7
Our Price: $16.32
CB Response - Platinum Support Subscription - Linux - 3 Year
3 Years Platinum Support Subscription License for CB Response On Premise per Linux Desktop/Laptop/Servers, Volume Tier 25,000 - 49,999
Includes CB Collective Defense Cloud, and Platinum maintenance & support (including updates, upgrades, and technical support) Price per tier. Quantity must be 25,000 or greater
#CB-LNX-PLT-3Y-T6
Our Price: $45.90
3 Years Platinum Support Subscription License for CB Response On Premise per Linux Desktop/Laptop/Servers, Volume Tier 50,000+
Includes CB Collective Defense Cloud, and Platinum maintenance & support (including updates, upgrades, and technical support) Price per tier. Quantity must be 50,000 or greater
#CB-LNX-PLT-3Y-T7
Our Price: $44.06
CB Response - Platinum Support Subscription - Linux - 1 Year - Renewal
1 Year Renewal Platinum Support Subscription License for CB Response On Premise per Linux Desktop/Laptop/Servers, Volume Tier 25,000 - 49,999
Includes CB Collective Defense Cloud, and Platinum maintenance & support (including updates, upgrades, and technical support) Price per tier. Quantity must be 25,000 or greater
#CB-LNX-PLT-1Y-R-T6
Our Price: $17.00
1 Year Renewal Platinum Support Subscription License for CB Response On Premise per Linux Desktop/Laptop/Servers, Volume Tier 50,000+
Includes CB Collective Defense Cloud, and Platinum maintenance & support (including updates, upgrades, and technical support) Price per tier. Quantity must be 50,000 or greater
#CB-LNX-PLT-1Y-R-T7
Our Price: $16.32
CB Response - Standard Support Subscription - Windows - 1 Year
1 Year Standard Support Subscription License for CB Response Cloud per Windows Desktop/Laptop/Servers, Volume Tier 100 - 999
Includes CB Collective Defense Cloud, and standard maintenance & support (including updates, upgrades, and technical support) Price per tier. Quantity must be 100 or greater
#CB-CLD-WIN-STD-1Y-T1
Our Price: $44.00
1 Year Standard Support Subscription License for CB Response Cloud per Windows Desktop/Laptop/Servers, Volume Tier 1,000 - 2,499
Includes CB Collective Defense Cloud, and standard maintenance & support (including updates, upgrades, and technical support) Price per tier. Quantity must be 1,000 or greater
#CB-CLD-WIN-STD-1Y-T2
Our Price: $39.16
1 Year Standard Support Subscription License for CB Response Cloud per Windows Desktop/Laptop/Servers, Volume Tier 2,500 - 4,999
Includes CB Collective Defense Cloud, and standard maintenance & support (including updates, upgrades, and technical support) Price per tier. Quantity must be 2,500 or greater
#CB-CLD-WIN-STD-1Y-T3
Our Price: $34.76
1 Year Standard Support Subscription License for CB Response Cloud per Windows Desktop/Laptop/Servers, Volume Tier 5,000 - 9,999
Includes CB Collective Defense Cloud, and standard maintenance & support (including updates, upgrades, and technical support) Price per tier. Quantity must be 5,000 or greater
#CB-CLD-WIN-STD-1Y-T4
Our Price: $29.92
1 Year Standard Support Subscription License for CB Response Cloud per Windows Desktop/Laptop/Servers, Volume Tier 10,000 - 24,999
Includes CB Collective Defense Cloud, and standard maintenance & support (including updates, upgrades, and technical support) Price per tier. Quantity must be 10,000 or greater
#CB-CLD-WIN-STD-1Y-T5
Our Price: $25.08
CB Response - Standard Support Subscription - Windows - 3 Year
3 Years Standard Support Subscription License for CB Response Cloud per Windows Desktop/Laptop/Servers, Volume Tier 100 - 999
Includes CB Collective Defense Cloud, and standard maintenance & support (including updates, upgrades, and technical support) Price per tier. Quantity must be 100 or greater
#CB-CLD-WIN-STD-3Y-T1
Our Price: $118.80
3 Years Standard Support Subscription License for CB Response Cloud per Windows Desktop/Laptop/Servers, Volume Tier 1,000 - 2,499
Includes CB Collective Defense Cloud, and standard maintenance & support (including updates, upgrades, and technical support) Price per tier. Quantity must be 1,000 or greater
#CB-CLD-WIN-STD-3Y-T2
Our Price: $105.73
3 Years Standard Support Subscription License for CB Response Cloud per Windows Desktop/Laptop/Servers, Volume Tier 2,500 - 4,999
Includes CB Collective Defense Cloud, and standard maintenance & support (including updates, upgrades, and technical support) Price per tier. Quantity must be 2,500 or greater
#CB-CLD-WIN-STD-3Y-T3
Our Price: $93.85
3 Years Standard Support Subscription License for CB Response Cloud per Windows Desktop/Laptop/Servers, Volume Tier 5,000 - 9,999
Includes CB Collective Defense Cloud, and standard maintenance & support (including updates, upgrades, and technical support) Price per tier. Quantity must be 5,000 or greater
#CB-CLD-WIN-STD-3Y-T4
Our Price: $80.78
3 Years Standard Support Subscription License for CB Response Cloud per Windows Desktop/Laptop/Servers, Volume Tier 10,000 - 24,999
Includes CB Collective Defense Cloud, and standard maintenance & support (including updates, upgrades, and technical support) Price per tier. Quantity must be 10,000 or greater
#CB-CLD-WIN-STD-3Y-T5
Our Price: $67.72
CB Response - Standard Support Subscription - Windows - 1 Year - Renewal
1 Year Renewal Standard Support Subscription License for CB Response Cloud per Windows Desktop/Laptop/Servers, Volume Tier 100 - 999
Includes CB Collective Defense Cloud, and standard maintenance & support (including updates, upgrades, and technical support) Price per tier. Quantity must be 100 or greater
#CB-CLD-WIN-STD-1Y-R-T1
Our Price: $44.00
1 Year Renewal Standard Support Subscription License for CB Response Cloud per Windows Desktop/Laptop/Servers, Volume Tier 1,000 - 2,499
Includes CB Collective Defense Cloud, and standard maintenance & support (including updates, upgrades, and technical support) Price per tier. Quantity must be 1,000 or greater
#CB-CLD-WIN-STD-1Y-R-T2
Our Price: $39.16
1 Year Renewal Standard Support Subscription License for CB Response Cloud per Windows Desktop/Laptop/Servers, Volume Tier 2,500 - 4,999
Includes CB Collective Defense Cloud, and standard maintenance & support (including updates, upgrades, and technical support) Price per tier. Quantity must be 2,500 or greater
#CB-CLD-WIN-STD-1Y-R-T3
Our Price: $34.76
1 Year Renewal Standard Support Subscription License for CB Response Cloud per Windows Desktop/Laptop/Servers, Volume Tier 5,000 - 9,999
Includes CB Collective Defense Cloud, and standard maintenance & support (including updates, upgrades, and technical support) Price per tier. Quantity must be 5,000 or greater
#CB-CLD-WIN-STD-1Y-R-T4
Our Price: $29.92
1 Year Renewal Standard Support Subscription License for CB Response Cloud per Windows Desktop/Laptop/Servers, Volume Tier 10,000 - 24,999
Includes CB Collective Defense Cloud, and standard maintenance & support (including updates, upgrades, and technical support) Price per tier. Quantity must be 10,000 or greater
#CB-CLD-WIN-STD-1Y-R-T5
Our Price: $25.08
CB Response - Standard Support Subscription - Mac - 1 Year
1 Year Standard Support Subscription License for CB Response Cloud per Mac Desktop/Laptop/Servers, Volume Tier 100 - 999
Includes CB Collective Defense Cloud, and standard maintenance & support (including updates, upgrades, and technical support) Price per tier. Quantity must be 100 or greater
#CB-CLD-MAC-STD-1Y-T1
Our Price: $44.00
1 Year Standard Support Subscription License for CB Response Cloud per Mac Desktop/Laptop/Servers, Volume Tier 1,000 - 2,499
Includes CB Collective Defense Cloud, and standard maintenance & support (including updates, upgrades, and technical support) Price per tier. Quantity must be 1,000 or greater
#CB-CLD-MAC-STD-1Y-T2
Our Price: $39.16
1 Year Standard Support Subscription License for CB Response Cloud per Mac Desktop/Laptop/Servers, Volume Tier 2,500 - 4,999
Includes CB Collective Defense Cloud, and standard maintenance & support (including updates, upgrades, and technical support) Price per tier. Quantity must be 2,500 or greater
#CB-CLD-MAC-STD-1Y-T3
Our Price: $34.76
1 Year Standard Support Subscription License for CB Response Cloud per Mac Desktop/Laptop/Servers, Volume Tier 5,000 - 9,999
Includes CB Collective Defense Cloud, and standard maintenance & support (including updates, upgrades, and technical support) Price per tier. Quantity must be 5,000 or greater
#CB-CLD-MAC-STD-1Y-T4
Our Price: $29.92
1 Year Standard Support Subscription License for CB Response Cloud per Mac Desktop/Laptop/Servers, Volume Tier 10,000 - 24,999
Includes CB Collective Defense Cloud, and standard maintenance & support (including updates, upgrades, and technical support) Price per tier. Quantity must be 10,000 or greater
#CB-CLD-MAC-STD-1Y-T5
Our Price: $25.08
CB Response - Standard Support Subscription - Mac - 3 Year
3 Years Standard Support Subscription License for CB Response Cloud per Mac Desktop/Laptop/Servers, Volume Tier 100 - 999
Includes CB Collective Defense Cloud, and standard maintenance & support (including updates, upgrades, and technical support) Price per tier. Quantity must be 100 or greater
#CB-CLD-MAC-STD-3Y-T1
Our Price: $118.80
3 Years Standard Support Subscription License for CB Response Cloud per Mac Desktop/Laptop/Servers, Volume Tier 1,000 - 2,499
Includes CB Collective Defense Cloud, and standard maintenance & support (including updates, upgrades, and technical support) Price per tier. Quantity must be 1,000 or greater
#CB-CLD-MAC-STD-3Y-T2
Our Price: $105.73
3 Years Standard Support Subscription License for CB Response Cloud per Mac Desktop/Laptop/Servers, Volume Tier 2,500 - 4,999
Includes CB Collective Defense Cloud, and standard maintenance & support (including updates, upgrades, and technical support) Price per tier. Quantity must be 2,500 or greater
#CB-CLD-MAC-STD-3Y-T3
Our Price: $93.85
3 Years Standard Support Subscription License for CB Response Cloud per Mac Desktop/Laptop/Servers, Volume Tier 5,000 - 9,999
Includes CB Collective Defense Cloud, and standard maintenance & support (including updates, upgrades, and technical support) Price per tier. Quantity must be 5,000 or greater
#CB-CLD-MAC-STD-3Y-T4
Our Price: $80.78
3 Years Standard Support Subscription License for CB Response Cloud per Mac Desktop/Laptop/Servers, Volume Tier 10,000 - 24,999
Includes CB Collective Defense Cloud, and standard maintenance & support (including updates, upgrades, and technical support) Price per tier. Quantity must be 10,000 or greater
#CB-CLD-MAC-STD-3Y-T5
Our Price: $67.72
CB Response - Standard Support Subscription - Mac - 1 Year - Renewal
1 Year Renewal Standard Support Subscription License for CB Response Cloud per Mac Desktop/Laptop/Servers, Volume Tier 100 - 999
Includes CB Collective Defense Cloud, and standard maintenance & support (including updates, upgrades, and technical support) Price per tier. Quantity must be 100 or greater
#CB-CLD-MAC-STD-1Y-R-T1
Our Price: $44.00
1 Year Renewal Standard Support Subscription License for CB Response Cloud per Mac Desktop/Laptop/Servers, Volume Tier 1,000 - 2,499
Includes CB Collective Defense Cloud, and standard maintenance & support (including updates, upgrades, and technical support) Price per tier. Quantity must be 1,000 or greater
#CB-CLD-MAC-STD-1Y-R-T2
Our Price: $39.16
1 Year Renewal Standard Support Subscription License for CB Response Cloud per Mac Desktop/Laptop/Servers, Volume Tier 2,500 - 4,999
Includes CB Collective Defense Cloud, and standard maintenance & support (including updates, upgrades, and technical support) Price per tier. Quantity must be 2,500 or greater
#CB-CLD-MAC-STD-1Y-R-T3
Our Price: $34.76
1 Year Renewal Standard Support Subscription License for CB Response Cloud per Mac Desktop/Laptop/Servers, Volume Tier 5,000 - 9,999
Includes CB Collective Defense Cloud, and standard maintenance & support (including updates, upgrades, and technical support) Price per tier. Quantity must be 5,000 or greater
#CB-CLD-MAC-STD-1Y-R-T4
Our Price: $29.92
1 Year Renewal Standard Support Subscription License for CB Response Cloud per Mac Desktop/Laptop/Servers, Volume Tier 10,000 - 24,999
Includes CB Collective Defense Cloud, and standard maintenance & support (including updates, upgrades, and technical support) Price per tier. Quantity must be 10,000 or greater
#CB-CLD-MAC-STD-1Y-R-T5
Our Price: $25.08
CB Response - Standard Support Subscription - Linux - 1 Year
1 Year Standard Support Subscription License for CB Response Cloud per Linux Desktop/Laptop/Servers, Volume Tier 100 - 999
Includes CB Collective Defense Cloud, and standard maintenance & support (including updates, upgrades, and technical support) Price per tier. Quantity must be 100 or greater
#CB-CLD-LNX-STD-1Y-T1
Our Price: $44.00
1 Year Standard Support Subscription License for CB Response Cloud per Linux Desktop/Laptop/Servers, Volume Tier 1,000 - 2,499
Includes CB Collective Defense Cloud, and standard maintenance & support (including updates, upgrades, and technical support) Price per tier. Quantity must be 1,000 or greater
#CB-CLD-LNX-STD-1Y-T2
Our Price: $39.16
1 Year Standard Support Subscription License for CB Response Cloud per Linux Desktop/Laptop/Servers, Volume Tier 2,500 - 4,999
Includes CB Collective Defense Cloud, and standard maintenance & support (including updates, upgrades, and technical support) Price per tier. Quantity must be 2,500 or greater
#CB-CLD-LNX-STD-1Y-T3
Our Price: $34.76
1 Year Standard Support Subscription License for CB Response Cloud per Linux Desktop/Laptop/Servers, Volume Tier 5,000 - 9,999
Includes CB Collective Defense Cloud, and standard maintenance & support (including updates, upgrades, and technical support) Price per tier. Quantity must be 5,000 or greater
#CB-CLD-LNX-STD-1Y-T4
Our Price: $29.92
1 Year Standard Support Subscription License for CB Response Cloud per Linux Desktop/Laptop/Servers, Volume Tier 10,000 - 24,999
Includes CB Collective Defense Cloud, and standard maintenance & support (including updates, upgrades, and technical support) Price per tier. Quantity must be 10,000 or greater
#CB-CLD-LNX-STD-1Y-T5
Our Price: $25.08
CB Response - Standard Support Subscription - Linux - 3 Year
3 Years Standard Support Subscription License for CB Response Cloud per Linux Desktop/Laptop/Servers, Volume Tier 100 - 999
Includes CB Collective Defense Cloud, and standard maintenance & support (including updates, upgrades, and technical support) Price per tier. Quantity must be 100 or greater
#CB-CLD-LNX-STD-3Y-T1
Our Price: $118.80
3 Years Standard Support Subscription License for CB Response Cloud per Linux Desktop/Laptop/Servers, Volume Tier 1,000 - 2,499
Includes CB Collective Defense Cloud, and standard maintenance & support (including updates, upgrades, and technical support) Price per tier. Quantity must be 1,000 or greater
#CB-CLD-LNX-STD-3Y-T2
Our Price: $105.73
3 Years Standard Support Subscription License for CB Response Cloud per Linux Desktop/Laptop/Servers, Volume Tier 2,500 - 4,999
Includes CB Collective Defense Cloud, and standard maintenance & support (including updates, upgrades, and technical support) Price per tier. Quantity must be 2,500 or greater
#CB-CLD-LNX-STD-3Y-T3
Our Price: $93.85
3 Years Standard Support Subscription License for CB Response Cloud per Linux Desktop/Laptop/Servers, Volume Tier 5,000 - 9,999
Includes CB Collective Defense Cloud, and standard maintenance & support (including updates, upgrades, and technical support) Price per tier. Quantity must be 5,000 or greater
#CB-CLD-LNX-STD-3Y-T4
Our Price: $80.78
3 Years Standard Support Subscription License for CB Response Cloud per Linux Desktop/Laptop/Servers, Volume Tier 10,000 - 24,999
Includes CB Collective Defense Cloud, and standard maintenance & support (including updates, upgrades, and technical support) Price per tier. Quantity must be 10,000 or greater
#CB-CLD-LNX-STD-3Y-T5
Our Price: $67.72
CB Response - Standard Support Subscription - Linux - 1 Year - Renewal
1 Year Renewal Standard Support Subscription License for CB Response Cloud per Linux Desktop/Laptop/Servers, Volume Tier 100 - 999
Includes CB Collective Defense Cloud, and standard maintenance & support (including updates, upgrades, and technical support) Price per tier. Quantity must be 100 or greater
#CB-CLD-LNX-STD-1Y-R-T1
Our Price: $44.00
1 Year Renewal Standard Support Subscription License for CB Response Cloud per Linux Desktop/Laptop/Servers, Volume Tier 1,000 - 2,499
Includes CB Collective Defense Cloud, and standard maintenance & support (including updates, upgrades, and technical support) Price per tier. Quantity must be 1,000 or greater
#CB-CLD-LNX-STD-1Y-R-T2
Our Price: $39.16
1 Year Renewal Standard Support Subscription License for CB Response Cloud per Linux Desktop/Laptop/Servers, Volume Tier 2,500 - 4,999
Includes CB Collective Defense Cloud, and standard maintenance & support (including updates, upgrades, and technical support) Price per tier. Quantity must be 2,500 or greater
#CB-CLD-LNX-STD-1Y-R-T3
Our Price: $34.76
1 Year Renewal Standard Support Subscription License for CB Response Cloud per Linux Desktop/Laptop/Servers, Volume Tier 5,000 - 9,999
Includes CB Collective Defense Cloud, and standard maintenance & support (including updates, upgrades, and technical support) Price per tier. Quantity must be 5,000 or greater
#CB-CLD-LNX-STD-1Y-R-T4
Our Price: $29.92
1 Year Renewal Standard Support Subscription License for CB Response Cloud per Linux Desktop/Laptop/Servers, Volume Tier 10,000 - 24,999
Includes CB Collective Defense Cloud, and standard maintenance & support (including updates, upgrades, and technical support) Price per tier. Quantity must be 10,000 or greater
#CB-CLD-LNX-STD-1Y-R-T5
Our Price: $25.08
CB Response - Premium Support Subscription - Windows - 1 Year
1 Year Premium Support Subscription License for CB Response Cloud per Windows Desktop/Laptop/Servers, Volume Tier 100 - 999
Includes CB Collective Defense Cloud, and Premium maintenance & support (including updates, upgrades, and technical support) Price per tier. Quantity must be 100 or greater
#CB-CLD-WIN-PRM-1Y-T1
Our Price: $46.20
1 Year Premium Support Subscription License for CB Response Cloud per Windows Desktop/Laptop/Servers, Volume Tier 1,000 - 2,499
Includes CB Collective Defense Cloud, and Premium maintenance & support (including updates, upgrades, and technical support) Price per tier. Quantity must be 1,000 or greater
#CB-CLD-WIN-PRM-1Y-T2
Our Price: $41.12
1 Year Premium Support Subscription License for CB Response Cloud per Windows Desktop/Laptop/Servers, Volume Tier 2,500 - 4,999
Includes CB Collective Defense Cloud, and Premium maintenance & support (including updates, upgrades, and technical support) Price per tier. Quantity must be 2,500 or greater
#CB-CLD-WIN-PRM-1Y-T3
Our Price: $36.50
1 Year Premium Support Subscription License for CB Response Cloud per Windows Desktop/Laptop/Servers, Volume Tier 5,000 - 9,999
Includes CB Collective Defense Cloud, and Premium maintenance & support (including updates, upgrades, and technical support) Price per tier. Quantity must be 5,000 or greater
#CB-CLD-WIN-PRM-1Y-T4
Our Price: $31.42
1 Year Premium Support Subscription License for CB Response Cloud per Windows Desktop/Laptop/Servers, Volume Tier 10,000 - 24,999
Includes CB Collective Defense Cloud, and Premium maintenance & support (including updates, upgrades, and technical support) Price per tier. Quantity must be 10,000 or greater
#CB-CLD-WIN-PRM-1Y-T5
Our Price: $26.33
CB Response - Premium Support Subscription - Windows - 3 Year
3 Years Premium Support Subscription License for CB Response Cloud per Windows Desktop/Laptop/Servers, Volume Tier 100 - 999
Includes CB Collective Defense Cloud, and Premium maintenance & support (including updates, upgrades, and technical support) Price per tier. Quantity must be 100 or greater
#CB-CLD-WIN-PRM-3Y-T1
Our Price: $124.74
3 Years Premium Support Subscription License for CB Response Cloud per Windows Desktop/Laptop/Servers, Volume Tier 1,000 - 2,499
Includes CB Collective Defense Cloud, and Premium maintenance & support (including updates, upgrades, and technical support) Price per tier. Quantity must be 1,000 or greater
#CB-CLD-WIN-PRM-3Y-T2
Our Price: $111.02
3 Years Premium Support Subscription License for CB Response Cloud per Windows Desktop/Laptop/Servers, Volume Tier 2,500 - 4,999
Includes CB Collective Defense Cloud, and Premium maintenance & support (including updates, upgrades, and technical support) Price per tier. Quantity must be 2,500 or greater
#CB-CLD-WIN-PRM-3Y-T3
Our Price: $98.54
3 Years Premium Support Subscription License for CB Response Cloud per Windows Desktop/Laptop/Servers, Volume Tier 5,000 - 9,999
Includes CB Collective Defense Cloud, and Premium maintenance & support (including updates, upgrades, and technical support) Price per tier. Quantity must be 5,000 or greater
#CB-CLD-WIN-PRM-3Y-T4
Our Price: $84.82
3 Years Premium Support Subscription License for CB Response Cloud per Windows Desktop/Laptop/Servers, Volume Tier 10,000 - 24,999
Includes CB Collective Defense Cloud, and Premium maintenance & support (including updates, upgrades, and technical support) Price per tier. Quantity must be 10,000 or greater
#CB-CLD-WIN-PRM-3Y-T5
Our Price: $71.10
CB Response - Premium Support Subscription - Windows - 1 Year - Renewal
1 Year Renewal Premium Support Subscription License for CB Response Cloud per Windows Desktop/Laptop/Servers, Volume Tier 100 - 999
Includes CB Collective Defense Cloud, and Premium maintenance & support (including updates, upgrades, and technical support) Price per tier. Quantity must be 100 or greater
#CB-CLD-WIN-PRM-1Y-R-T1
Our Price: $46.20
1 Year Renewal Premium Support Subscription License for CB Response Cloud per Windows Desktop/Laptop/Servers, Volume Tier 1,000 - 2,499
Includes CB Collective Defense Cloud, and Premium maintenance & support (including updates, upgrades, and technical support) Price per tier. Quantity must be 1,000 or greater
#CB-CLD-WIN-PRM-1Y-R-T2
Our Price: $41.12
1 Year Renewal Premium Support Subscription License for CB Response Cloud per Windows Desktop/Laptop/Servers, Volume Tier 2,500 - 4,999
Includes CB Collective Defense Cloud, and Premium maintenance & support (including updates, upgrades, and technical support) Price per tier. Quantity must be 2,500 or greater
#CB-CLD-WIN-PRM-1Y-R-T3
Our Price: $36.50
1 Year Renewal Premium Support Subscription License for CB Response Cloud per Windows Desktop/Laptop/Servers, Volume Tier 5,000 - 9,999
Includes CB Collective Defense Cloud, and Premium maintenance & support (including updates, upgrades, and technical support) Price per tier. Quantity must be 5,000 or greater
#CB-CLD-WIN-PRM-1Y-R-T4
Our Price: $31.42
1 Year Renewal Premium Support Subscription License for CB Response Cloud per Windows Desktop/Laptop/Servers, Volume Tier 10,000 - 24,999
Includes CB Collective Defense Cloud, and Premium maintenance & support (including updates, upgrades, and technical support) Price per tier. Quantity must be 10,000 or greater
#CB-CLD-WIN-PRM-1Y-R-T5
Our Price: $26.33
CB Response - Premium Support Subscription - Mac - 1 Year
1 Year Premium Support Subscription License for CB Response Cloud per Mac Desktop/Laptop/Servers, Volume Tier 100 - 999
Includes CB Collective Defense Cloud, and Premium maintenance & support (including updates, upgrades, and technical support) Price per tier. Quantity must be 100 or greater
#CB-CLD-MAC-PRM-1Y-T1
Our Price: $46.20
1 Year Premium Support Subscription License for CB Response Cloud per Mac Desktop/Laptop/Servers, Volume Tier 1,000 - 2,499
Includes CB Collective Defense Cloud, and Premium maintenance & support (including updates, upgrades, and technical support) Price per tier. Quantity must be 1,000 or greater
#CB-CLD-MAC-PRM-1Y-T2
Our Price: $41.12
1 Year Premium Support Subscription License for CB Response Cloud per Mac Desktop/Laptop/Servers, Volume Tier 2,500 - 4,999
Includes CB Collective Defense Cloud, and Premium maintenance & support (including updates, upgrades, and technical support) Price per tier. Quantity must be 2,500 or greater
#CB-CLD-MAC-PRM-1Y-T3
Our Price: $36.50
1 Year Premium Support Subscription License for CB Response Cloud per Mac Desktop/Laptop/Servers, Volume Tier 5,000 - 9,999
Includes CB Collective Defense Cloud, and Premium maintenance & support (including updates, upgrades, and technical support) Price per tier. Quantity must be 5,000 or greater
#CB-CLD-MAC-PRM-1Y-T4
Our Price: $31.42
1 Year Premium Support Subscription License for CB Response Cloud per Mac Desktop/Laptop/Servers, Volume Tier 10,000 - 24,999
Includes CB Collective Defense Cloud, and Premium maintenance & support (including updates, upgrades, and technical support) Price per tier. Quantity must be 10,000 or greater
#CB-CLD-MAC-PRM-1Y-T5
Our Price: $26.33
CB Response - Premium Support Subscription - Mac - 3 Year
3 Years Premium Support Subscription License for CB Response Cloud per Mac Desktop/Laptop/Servers, Volume Tier 100 - 999
Includes CB Collective Defense Cloud, and Premium maintenance & support (including updates, upgrades, and technical support) Price per tier. Quantity must be 100 or greater
#CB-CLD-MAC-PRM-3Y-T1
Our Price: $124.74
3 Years Premium Support Subscription License for CB Response Cloud per Mac Desktop/Laptop/Servers, Volume Tier 1,000 - 2,499
Includes CB Collective Defense Cloud, and Premium maintenance & support (including updates, upgrades, and technical support) Price per tier. Quantity must be 1,000 or greater
#CB-CLD-MAC-PRM-3Y-T2
Our Price: $111.02
3 Years Premium Support Subscription License for CB Response Cloud per Mac Desktop/Laptop/Servers, Volume Tier 2,500 - 4,999
Includes CB Collective Defense Cloud, and Premium maintenance & support (including updates, upgrades, and technical support) Price per tier. Quantity must be 2,500 or greater
#CB-CLD-MAC-PRM-3Y-T3
Our Price: $98.54
3 Years Premium Support Subscription License for CB Response Cloud per Mac Desktop/Laptop/Servers, Volume Tier 5,000 - 9,999
Includes CB Collective Defense Cloud, and Premium maintenance & support (including updates, upgrades, and technical support) Price per tier. Quantity must be 5,000 or greater
#CB-CLD-MAC-PRM-3Y-T4
Our Price: $84.82
3 Years Premium Support Subscription License for CB Response Cloud per Mac Desktop/Laptop/Servers, Volume Tier 10,000 - 24,999
Includes CB Collective Defense Cloud, and Premium maintenance & support (including updates, upgrades, and technical support) Price per tier. Quantity must be 10,000 or greater
#CB-CLD-MAC-PRM-3Y-T5
Our Price: $71.10
CB Response - Premium Support Subscription - Mac - 1 Year - Renewal
1 Year Renewal Premium Support Subscription License for CB Response Cloud per Mac Desktop/Laptop/Servers, Volume Tier 100 - 999
Includes CB Collective Defense Cloud, and Premium maintenance & support (including updates, upgrades, and technical support) Price per tier. Quantity must be 100 or greater
#CB-CLD-MAC-PRM-1Y-R-T1
Our Price: $46.20
1 Year Renewal Premium Support Subscription License for CB Response Cloud per Mac Desktop/Laptop/Servers, Volume Tier 1,000 - 2,499
Includes CB Collective Defense Cloud, and Premium maintenance & support (including updates, upgrades, and technical support) Price per tier. Quantity must be 1,000 or greater
#CB-CLD-MAC-PRM-1Y-R-T2
Our Price: $41.12
1 Year Renewal Premium Support Subscription License for CB Response Cloud per Mac Desktop/Laptop/Servers, Volume Tier 2,500 - 4,999
Includes CB Collective Defense Cloud, and Premium maintenance & support (including updates, upgrades, and technical support) Price per tier. Quantity must be 2,500 or greater
#CB-CLD-MAC-PRM-1Y-R-T3
Our Price: $36.50
1 Year Renewal Premium Support Subscription License for CB Response Cloud per Mac Desktop/Laptop/Servers, Volume Tier 5,000 - 9,999
Includes CB Collective Defense Cloud, and Premium maintenance & support (including updates, upgrades, and technical support) Price per tier. Quantity must be 5,000 or greater
#CB-CLD-MAC-PRM-1Y-R-T4
Our Price: $31.42
1 Year Renewal Premium Support Subscription License for CB Response Cloud per Mac Desktop/Laptop/Servers, Volume Tier 10,000 - 24,999
Includes CB Collective Defense Cloud, and Premium maintenance & support (including updates, upgrades, and technical support) Price per tier. Quantity must be 10,000 or greater
#CB-CLD-MAC-PRM-1Y-R-T5
Our Price: $26.33
CB Response - Premium Support Subscription - Linux - 1 Year
1 Year Premium Support Subscription License for CB Response Cloud per Linux Desktop/Laptop/Servers, Volume Tier 100 - 999
Includes CB Collective Defense Cloud, and Premium maintenance & support (including updates, upgrades, and technical support) Price per tier. Quantity must be 100 or greater
#CB-CLD-LNX-PRM-1Y-T1
Our Price: $46.20
1 Year Premium Support Subscription License for CB Response Cloud per Linux Desktop/Laptop/Servers, Volume Tier 1,000 - 2,499
Includes CB Collective Defense Cloud, and Premium maintenance & support (including updates, upgrades, and technical support) Price per tier. Quantity must be 1,000 or greater
#CB-CLD-LNX-PRM-1Y-T2
Our Price: $41.12
1 Year Premium Support Subscription License for CB Response Cloud per Linux Desktop/Laptop/Servers, Volume Tier 2,500 - 4,999
Includes CB Collective Defense Cloud, and Premium maintenance & support (including updates, upgrades, and technical support) Price per tier. Quantity must be 2,500 or greater
#CB-CLD-LNX-PRM-1Y-T3
Our Price: $36.50
1 Year Premium Support Subscription License for CB Response Cloud per Linux Desktop/Laptop/Servers, Volume Tier 5,000 - 9,999
Includes CB Collective Defense Cloud, and Premium maintenance & support (including updates, upgrades, and technical support) Price per tier. Quantity must be 5,000 or greater
#CB-CLD-LNX-PRM-1Y-T4
Our Price: $31.42
1 Year Premium Support Subscription License for CB Response Cloud per Linux Desktop/Laptop/Servers, Volume Tier 10,000 - 24,999
Includes CB Collective Defense Cloud, and Premium maintenance & support (including updates, upgrades, and technical support) Price per tier. Quantity must be 10,000 or greater
#CB-CLD-LNX-PRM-1Y-T5
Our Price: $26.33
CB Response - Premium Support Subscription - Linux - 3 Year
3 Years Premium Support Subscription License for CB Response Cloud per Linux Desktop/Laptop/Servers, Volume Tier 100 - 999
Includes CB Collective Defense Cloud, and Premium maintenance & support (including updates, upgrades, and technical support) Price per tier. Quantity must be 100 or greater
#CB-CLD-LNX-PRM-3Y-T1
Our Price: $124.74
3 Years Premium Support Subscription License for CB Response Cloud per Linux Desktop/Laptop/Servers, Volume Tier 1,000 - 2,499
Includes CB Collective Defense Cloud, and Premium maintenance & support (including updates, upgrades, and technical support) Price per tier. Quantity must be 1,000 or greater
#CB-CLD-LNX-PRM-3Y-T2
Our Price: $111.02
3 Years Premium Support Subscription License for CB Response Cloud per Linux Desktop/Laptop/Servers, Volume Tier 2,500 - 4,999
Includes CB Collective Defense Cloud, and Premium maintenance & support (including updates, upgrades, and technical support) Price per tier. Quantity must be 2,500 or greater
#CB-CLD-LNX-PRM-3Y-T3
Our Price: $98.54
3 Years Premium Support Subscription License for CB Response Cloud per Linux Desktop/Laptop/Servers, Volume Tier 5,000 - 9,999
Includes CB Collective Defense Cloud, and Premium maintenance & support (including updates, upgrades, and technical support) Price per tier. Quantity must be 5,000 or greater
#CB-CLD-LNX-PRM-3Y-T4
Our Price: $84.82
3 Years Premium Support Subscription License for CB Response Cloud per Linux Desktop/Laptop/Servers, Volume Tier 10,000 - 24,999
Includes CB Collective Defense Cloud, and Premium maintenance & support (including updates, upgrades, and technical support) Price per tier. Quantity must be 10,000 or greater
#CB-CLD-LNX-PRM-3Y-T5
Our Price: $71.10
CB Response - Premium Support Subscription - Linux - 1 Year - Renewal
1 Year Renewal Premium Support Subscription License for CB Response Cloud per Linux Desktop/Laptop/Servers, Volume Tier 100 - 999
Includes CB Collective Defense Cloud, and Premium maintenance & support (including updates, upgrades, and technical support) Price per tier. Quantity must be 100 or greater
#CB-CLD-LNX-PRM-1Y-R-T1
Our Price: $46.20
1 Year Renewal Premium Support Subscription License for CB Response Cloud per Linux Desktop/Laptop/Servers, Volume Tier 1,000 - 2,499
Includes CB Collective Defense Cloud, and Premium maintenance & support (including updates, upgrades, and technical support) Price per tier. Quantity must be 1,000 or greater
#CB-CLD-LNX-PRM-1Y-R-T2
Our Price: $41.12
1 Year Renewal Premium Support Subscription License for CB Response Cloud per Linux Desktop/Laptop/Servers, Volume Tier 2,500 - 4,999
Includes CB Collective Defense Cloud, and Premium maintenance & support (including updates, upgrades, and technical support) Price per tier. Quantity must be 2,500 or greater
#CB-CLD-LNX-PRM-1Y-R-T3
Our Price: $36.50
1 Year Renewal Premium Support Subscription License for CB Response Cloud per Linux Desktop/Laptop/Servers, Volume Tier 5,000 - 9,999
Includes CB Collective Defense Cloud, and Premium maintenance & support (including updates, upgrades, and technical support) Price per tier. Quantity must be 5,000 or greater
#CB-CLD-LNX-PRM-1Y-R-T4
Our Price: $31.42
1 Year Renewal Premium Support Subscription License for CB Response Cloud per Linux Desktop/Laptop/Servers, Volume Tier 10,000 - 24,999
Includes CB Collective Defense Cloud, and Premium maintenance & support (including updates, upgrades, and technical support) Price per tier. Quantity must be 10,000 or greater
#CB-CLD-LNX-PRM-1Y-R-T5
Our Price: $26.33
CB Response - Platinum Support Subscription - Windows - 1 Year
1 Year Platinum Support Subscription License for CB Response Cloud per Windows Desktop/Laptop/Servers, Volume Tier 25,000 - 49,999
Includes CB Collective Defense Cloud, and Platinum maintenance & support (including updates, upgrades, and technical support) Price per tier. Quantity must be 25,000 or greater
#CB-CLD-WIN-PLT-1Y-T6
Our Price: $24.26
1 Year Platinum Support Subscription License for CB Response Cloud per Windows Desktop/Laptop/Servers, Volume Tier 50,000+
Includes CB Collective Defense Cloud, and Platinum maintenance & support (including updates, upgrades, and technical support) Price per tier. Quantity must be 50,000 or greater
#CB-CLD-WIN-PLT-1Y-T7
Our Price: $23.28
CB Response - Platinum Support Subscription - Windows - 3 Year
3 Years Platinum Support Subscription License for CB Response Cloud per Windows Desktop/Laptop/Servers, Volume Tier 25,000 - 49,999
Includes CB Collective Defense Cloud, and Platinum maintenance & support (including updates, upgrades, and technical support) Price per tier. Quantity must be 25,000 or greater
#CB-CLD-WIN-PLT-3Y-T6
Our Price: $65.50
3 Years Platinum Support Subscription License for CB Response Cloud per Windows Desktop/Laptop/Servers, Volume Tier 50,000+
Includes CB Collective Defense Cloud, and Platinum maintenance & support (including updates, upgrades, and technical support) Price per tier. Quantity must be 50,000 or greater
#CB-CLD-WIN-PLT-3Y-T7
Our Price: $62.86
CB Response - Platinum Support Subscription - Windows - 1 Year - Renewal
1 Year Renewal Platinum Support Subscription License for CB Response Cloud per Windows Desktop/Laptop/Servers, Volume Tier 25,000 - 49,999
Includes CB Collective Defense Cloud, and Platinum maintenance & support (including updates, upgrades, and technical support) Price per tier. Quantity must be 25,000 or greater
#CB-CLD-WIN-PLT-1Y-R-T6
Our Price: $24.26
1 Year Renewal Platinum Support Subscription License for CB Response Cloud per Windows Desktop/Laptop/Servers, Volume Tier 50,000+
Includes CB Collective Defense Cloud, and Platinum maintenance & support (including updates, upgrades, and technical support) Price per tier. Quantity must be 50,000 or greater
#CB-CLD-WIN-PLT-1Y-R-T7
Our Price: $23.28
CB Response - Platinum Support Subscription - Mac - 1 Year
1 Year Platinum Support Subscription License for CB Response Cloud per Mac Desktop/Laptop/Servers, Volume Tier 25,000 - 49,999
Includes CB Collective Defense Cloud, and Platinum maintenance & support (including updates, upgrades, and technical support) Price per tier. Quantity must be 25,000 or greater
#CB-CLD-MAC-PLT-1Y-T6
Our Price: $24.26
1 Year Platinum Support Subscription License for CB Response Cloud per Mac Desktop/Laptop/Servers, Volume Tier 50,000+
Includes CB Collective Defense Cloud, and Platinum maintenance & support (including updates, upgrades, and technical support) Price per tier. Quantity must be 50,000 or greater
#CB-CLD-MAC-PLT-1Y-T7
Our Price: $23.28
CB Response - Platinum Support Subscription - Mac - 3 Year
3 Years Platinum Support Subscription License for CB Response Cloud per Mac Desktop/Laptop/Servers, Volume Tier 25,000 - 49,999
Includes CB Collective Defense Cloud, and Platinum maintenance & support (including updates, upgrades, and technical support) Price per tier. Quantity must be 25,000 or greater
#CB-CLD-MAC-PLT-3Y-T6
Our Price: $65.50
3 Years Platinum Support Subscription License for CB Response Cloud per Mac Desktop/Laptop/Servers, Volume Tier 50,000+
Includes CB Collective Defense Cloud, and Platinum maintenance & support (including updates, upgrades, and technical support) Price per tier. Quantity must be 50,000 or greater
#CB-CLD-MAC-PLT-3Y-T7
Our Price: $62.86
CB Response - Platinum Support Subscription - Mac - 1 Year - Renewal
1 Year Renewal Platinum Support Subscription License for CB Response Cloud per Mac Desktop/Laptop/Servers, Volume Tier 25,000 - 49,999
Includes CB Collective Defense Cloud, and Platinum maintenance & support (including updates, upgrades, and technical support) Price per tier. Quantity must be 25,000 or greater
#CB-CLD-MAC-PLT-1Y-R-T6
Our Price: $24.26
1 Year Renewal Platinum Support Subscription License for CB Response Cloud per Mac Desktop/Laptop/Servers, Volume Tier 50,000+
Includes CB Collective Defense Cloud, and Platinum maintenance & support (including updates, upgrades, and technical support) Price per tier. Quantity must be 50,000 or greater
#CB-CLD-MAC-PLT-1Y-R-T7
Our Price: $23.28
CB Response - Platinum Support Subscription - Linux - 1 Year
1 Year Platinum Support Subscription License for CB Response Cloud per Linux Desktop/Laptop/Servers, Volume Tier 25,000 - 49,999
Includes CB Collective Defense Cloud, and Platinum maintenance & support (including updates, upgrades, and technical support) Price per tier. Quantity must be 25,000 or greater
#CB-CLD-LNX-PLT-1Y-T6
Our Price: $24.26
1 Year Platinum Support Subscription License for CB Response Cloud per Linux Desktop/Laptop/Servers, Volume Tier 50,000+
Includes CB Collective Defense Cloud, and Platinum maintenance & support (including updates, upgrades, and technical support) Price per tier. Quantity must be 50,000 or greater
#CB-CLD-LNX-PLT-1Y-T7
Our Price: $23.28
CB Response - Platinum Support Subscription - Linux - 3 Year
3 Years Platinum Support Subscription License for CB Response Cloud per Linux Desktop/Laptop/Servers, Volume Tier 25,000 - 49,999
Includes CB Collective Defense Cloud, and Platinum maintenance & support (including updates, upgrades, and technical support) Price per tier. Quantity must be 25,000 or greater
#CB-CLD-LNX-PLT-3Y-T6
Our Price: $65.50
3 Years Platinum Support Subscription License for CB Response Cloud per Linux Desktop/Laptop/Servers, Volume Tier 50,000+
Includes CB Collective Defense Cloud, and Platinum maintenance & support (including updates, upgrades, and technical support) Price per tier. Quantity must be 50,000 or greater
#CB-CLD-LNX-PLT-3Y-T7
Our Price: $62.86
CB Response - Platinum Support Subscription - Linux - 1 Year - Renewal
1 Year Renewal Platinum Support Subscription License for CB Response Cloud per Linux Desktop/Laptop/Servers, Volume Tier 25,000 - 49,999
Includes CB Collective Defense Cloud, and Platinum maintenance & support (including updates, upgrades, and technical support) Price per tier. Quantity must be 25,000 or greater
#CB-CLD-LNX-PLT-1Y-R-T6
Our Price: $24.26
1 Year Renewal Platinum Support Subscription License for CB Response Cloud per Linux Desktop/Laptop/Servers, Volume Tier 50,000+
Includes CB Collective Defense Cloud, and Platinum maintenance & support (including updates, upgrades, and technical support) Price per tier. Quantity must be 50,000 or greater
#CB-CLD-LNX-PLT-1Y-R-T7
Our Price: $23.28